With IT unemployment at historic lows, the fight to attract strong IT professionals to your company is raging. Strong candidates with attractive career histories – the kind you undoubtedly want on your team – have no shortage of options when it comes to deciding on their next move.
So how can you and your company stand out from the rest?  By focusing on the Candidate Experience.
Here's an eye-opening look at how powerful this concept is: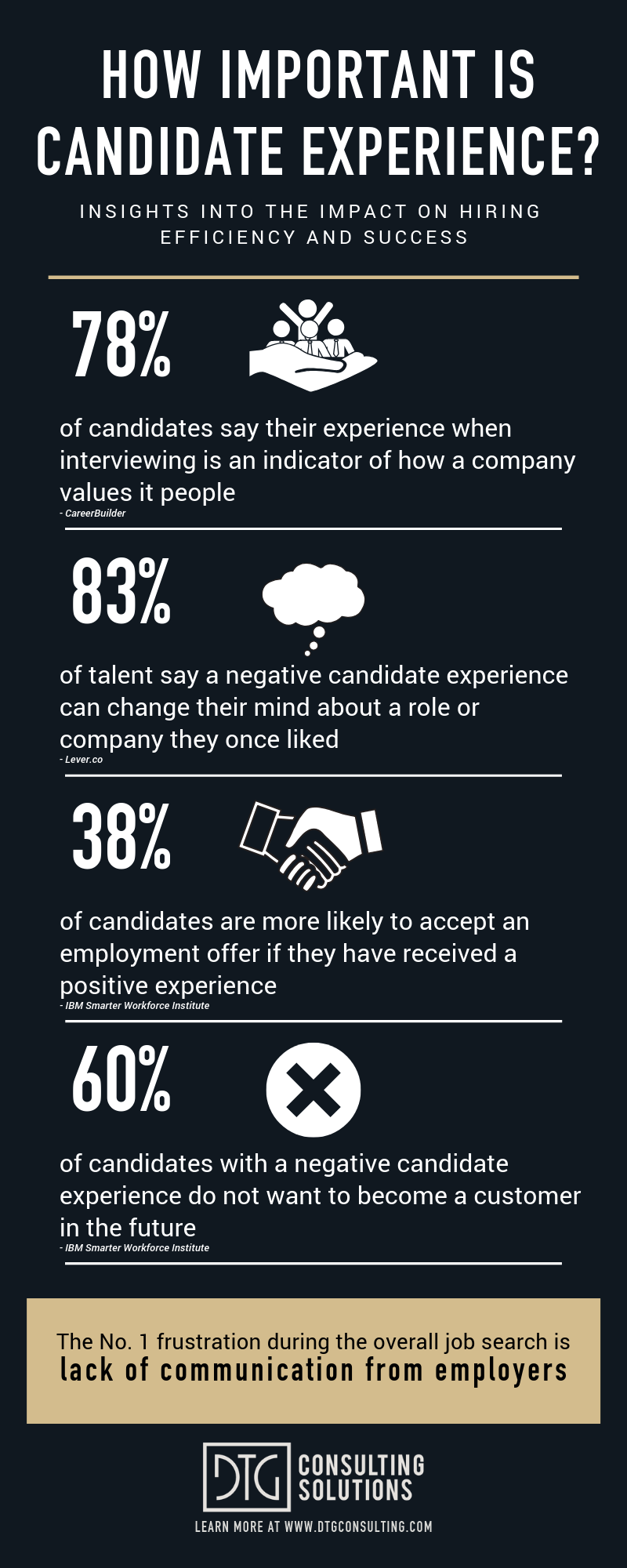 Sources: CareerBuilder, Lever.co, IBM: Smarter Workforce Institute
If you work with external recruiters, then organizing a hiring process that will result in positive candidate experiences starts there.  Your external recruiting partner exists as the middleman and should be holding your candidate's hand throughout the entire process in order to provide a positive and professional candidate experience.
DTG Consulting and DTG Finance & Capital Markets is an IT recruiting & staffing firm that specializes in providing positive and professional candidate experiences to each candidate we work with.  Regardless of the result of an interview process, we firmly believe in treating people the right way as they navigate one of the more stressful aspects of life – job searching.  As a result, our clients enjoy increased efficiency and success when hiring for IT positions.
To learn more about the value that DTG can provide to your hiring processes, contact us for a free consultation.
Contact Us
Candidates who are treated well and have a positive experience during the hiring process are "38% more likely to accept an offer."
This comes from a study via IBM's Smarter Workforce Institute, led by 2 Ph.D's.
It can be quite deflating for a company and a hiring manager to reach the end of the hiring process and extend an offer, only to have the candidate reject.
The #1 cause of a negative candidate experience?
Communication.
A lack of communication, that is.
Candidates hate being in the dark and simply want to be kept informed. It's not even about the offer in most cases; candidates want to be respected. The IBM study even found that declined candidates that received a positive experience will even apply in the future!
If a company wants to acquire talent in this tight labor market, they need to focus on this. And if they work with recruiting partners, they need to make sure that these partners are treating their candidates the right way.
A good recruiting partner will help to provide that professional and positive candidate experience, figuratively (and sometimes literally) holding your candidate's hand from start to finish.
---
DTG Consulting is a boutique staffing & recruiting firm that excels in providing positive and professional candidate experiences.  We hope to have the opportunity to consult with you on the experience your company gives to candidates to help your business grow.
As with just about anything in life, there is a spectrum of quality when it comes to Recruiters. There are bad recruiters, there are average recruiters, and then there are good recruiters. But what makes the latter – a good recruiter – so valuable as a partner to your company?
A good recruiting partner knows your time is valuable
Unless you need to staff an entire cloud migration project by the end of the week, a good recruiter should only be introducing quality candidates for your open position. It's the recruiter's responsibility to comb the market and ask tough questions to qualify/disqualify candidates, so that only a small handful reach you, the hiring manager. It's the age-old notion of "quality over quantity". As a technical hiring manager, spending less time on hiring means more time to tackle other challenges.
A good recruiting partner shares insight on a candidate not found on a resume
You work with a recruiter in order to take care of the "leg-work" at the beginning of the interview process, so that you & the candidate can immediately begin having advanced interview discussions. Your recruiting partner should be able to inform you on the candidate's situation, how they match up against the skill/experience requirements, their career aspirations, salary expectations, personality, and more. These are things can't be found on a resume and can help you, the hiring manager, have more informed and progressive conversations during interviews.
A good recruiting partner's input isn't always geared towards their pocket
For a recruiter, every candidate that is introduced to a client presents a potential monetary opportunity. However, a good recruiter should play the part of the trusted advisor, consulting with you to solve the hiring problem. Not every candidate is going to be "outstanding", "amazing" or "must-hire" material, and therefore a good recruiter shouldn't be too biased with their judgement on the pros & cons of the individual's candidacy.
A good recruiting partner focuses on providing positive & professional experiences to your candidates
No matter how delicious a chef's menu is, if the wait-staff & maître-d are rude to customers then the restaurant is doomed to fail. Hiring, even for the most technical positions, is no different.  Studies[1][2][3] have shown that several pitfalls of the recruiting process can be traced back to negative candidate experiences. The modern-day technologist has no shortage of suitors and competition for certain technical skillsets, such as Java, AWS and Pen-Testers to name a few, has never been stronger. With so many opportunities to choose from, the "candidate experience" that a candidate receives while interviewing for your position has become absolutely critical. As the matchmaker, a good recruiter will ensure that your candidate receives first-class treatment as they go through your interview process. That means exhibiting traits like honesty, respect and integrity with your candidate, along with frequent & transparent communication.
A good recruiting partner helps to distinguish your company & position from the competition
I touched upon the demand for tech pros in the last paragraph. A good recruiting partner will help to "sell" your candidate on the overall opportunity with your company and ward off interest from your competitors. This is particularly important if you have several steps in your interview process. You could be looking forward to a final interview with a strong candidate in a few days, but another company could swoop in and make an offer in an effort to take your candidate off the market. A good recruiter will be able to consult the candidate on the benefits of finishing the process with you, therefore giving you an opportunity to seal the deal.
---
DTG Consulting is a boutique search & staffing firm that has consulted hundreds of clients over the last 4 decades on acquiring top technology talent.  We hope to have the opportunity to consult with you on technical hiring to help your company complete IT initiatives and achieve critical business objectives.
"Required: Current AWS Certification…"
As a Technology Recruiter, I see job-ad after job-ad calling for AWS Certifications and many positions that require (hope for) multiple.  With KeyBanc analysts estimating that Amazon boasts a whopping 62% of cloud market share[1], it should come as no surprise that any competitive organization with an existing or planned cloud presence – especially in financial services – is looking to attract top certified AWS cloud talent.
With the high demand for cloud technologists, it also shouldn't be a surprise that compensation levels for these professionals have skyrocketed.  According to the IT Training body Global Knowledge[2], AWS now holds 2 of the top 5 paying IT certifications: AWS Certified Solutions Architect-Associate (#2) and AWS Certified Developer-Associate (#4).  Keep in mind; these are the Associate level certs.  For anyone that has invested the time to earn the Professional level, well, please don't hesitate to contact me – I'm well aware of your worth.
The salary figures cited in the aforementioned Global Knowledge article are based on survey responses and do not differentiate by geographical location or experience level.  From personally combing the AWS talent market in Greater NYC on behalf of one of my firm's financial clients, I can tell you these professionals expect far higher compensation.
I recently interviewed a candidate that looked perfect for my client's job spec: 10-years' experience, all in financial services, Infrastructure background, held the AWS Solutions Architect certification at the Professional level, along with DevOps and SysOps at the Associate Level.  After qualifying him for my client's position, I asked what he was expecting in terms of compensation.
 "$225k as a base, plus bonus."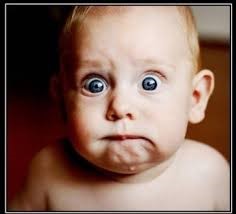 ---
Founded in 1972 by John Di Bari, a Vietnam Veteran, DTG Consulting is a boutique search & staffing firm that has been placing candidates in cloud-related positions since the inception of cloud computing.  If your company requires talent for a migration, deployment or other cloud-related project, don't hesitate to contact us to further discuss your needs.
Are your current recruiting partners best suited for your company's needs?  Recruiting firms come in all shapes & sizes, feature different processes for sourcing candidates and many specialize in certain industries.  Drawing upon 45 years of staffing industry experience in Metro-NYC, we put together 4 questions to help ensure that you are working with the right partners for your unique hiring needs:
1. Are there any companies that are off-limits for you to recruit from?
One of the fundamental aspects of your company's partnership with a recruiting agency is that they won't recruit your employees for their other clients.  Therefore, when a recruiting agency partners with you, your employees become "off-limits" for them to recruit.  If your recruiting partner works with several large companies in your geographical area, that shrinks the talent pool available for your company's open positions.  With a recent survey by Indeed revealing that "86% of managers rate the IT hiring market as very challenging", you're going to need access to every corner of the talent market.
2. Where does your agency source candidates from?
You're going to want your recruiting partner to have a thorough answer here.  Every agency has business memberships to job boards like CareerBuilder or Monster with large yet general talent pools, but for certain skillsets the best talent will be sourced elsewhere.  Leading recruiting agencies forge relationships and utilize defined strategies in order to gain access to unique talent pools.  An agency featuring long tenured directors and recruiters will most likely ensure a strong referral network which is the #1 most successful method for hiring, per the SHRM.
3. How long, on average, have your recruiters been in the staffing industry?
Many recruiting and staffing firms can be very KPI & metrics driven, which frequently means that the recruiting team is largely made up of recent graduates.  With lofty call numbers to hit on a daily basis, turnover can be high and your candidate's experience leading up to joining your company can be adversely affected.  On the other hand, if your recruiting partner features career recruiters and long tenures, that probably benefits you and your potential candidates.
4. Are you working with any of our competitors? Would there be any conflict of interest?
If a recruiting partner is also working with several of your direct competitors, that is potentially not an ideal situation for you.  At the end of the day, a recruiting agency is still a business and will look to make a placement where it can.  You want your recruiting partner's allegiance as they navigate the talent market on your behalf, so make sure that they aren't also serving too many of your company's rivals.
While these are not the only questions you should ask both existing and potential recruiting partners, they will help to determine if you're working with partners that are best situated to meet your company's hiring needs.
---
Founded in 1972 by John Di Bari, a Vietnam Combat Veteran, DTG Consulting is a boutique search & staffing firm that has been placing candidates in technical positions for over four decades. Our recruitment methodology has been proven time and again in placing professionals in contract, direct hire, and contract-to-hire positions.  We hope to have the opportunity to consult with you on technical hiring to help your company complete IT initiatives and achieve critical business objectives.
So let's assume that you, the reader, are probably a technology professional of some kind.
And let's also assume that you may, in some form or another, be open to (just a little bit) hearing about what else may be out there in your field.  Maybe it's money.  Maybe it's opportunity.  Maybe it's the mind-numbing commute.
Whether you're a DevOps Engineer, QA Tester, Python Developer or Network Admin, keep reading…these 4 extremely simple tips apply to all of you:
Get Specific

#groovy #hadoop #chef
It's not the kind of rocket science that you usually do, but Technology Recruiters are using Boolean Logic to search extremely specific technologies and buzzwords in order to magically find candidates to recruit. (Stay with me on the whole specificity thing…)
Detail Your Environments


In addition to all the bullet points detailing all the great stuff that you did at every job you've ever had, please make it easy for us to find you by listing every single tech in your stack at every single job you've ever had.  A majority of tech professionals end each job segment with a section: "Environment: AWS, C#, Node.js, ElasticSearch, etc…" If you don't list your specific technologies on your resume, you run the risk of being missed by a recruiter!  Be comprehensive by all means, but please be honest too 🙂
Internet Resume v. Submission Resume

The resume you post on Monster/DICE/Etc. definitely does NOT need to be the resume that hiring managers use to figure out if you're the one or not.  Feel free to get pretty detailed with the resume you post on a search site.  Most technology professionals feature posted resumes of 6-7 pages, so take note all you young guys thinking you have to somehow fit it all on one page.  When you get contacted (assuming points 1 and 2, naturally) you can work with the recruiter to ensure that the best resume is utilized.
Know What You Want.

Back to the money/opportunity/commute thing…at least give it some thought.  This way, when a recruiter contacts you with an opportunity that they believe could be a fantastic fit for you (you know…help you, help me), both you and recruiter can figure out if you're on the same wavelength in 47 seconds.
While these basic steps may pale in comparison to what you may have built in the cloud, they may help you land your next opportunity. Good Luck!
______________________________________________________________________________________________________________________________________
Founded in 1972 by John Di Bari, a Vietnam Combat Veteran, DTG Consulting is a boutique search & staffing firm that has been placing candidates in technical positions for over four decades. Learn more about career opportunities with our direct clients and our commitment to recruiting excellence at www.dtgconsulting.com